Dans un marché des crypto-monnaies plutôt agité, le prix du Bitcoin se retrouve au centre de nombreuses discussions, s'échangeant à 27 580 $ ce mardi et affichant un recul de 3% sur 24 heures. Alors que le marché est supposé s'orienter vers un élan positif appelé « Uptober », cette baisse soulève des questions tandis que des difficultés se profilent encore à l'horizon.
D'une part, les États-Unis ont renforcé leur surveillance des actifs numériques avec la SEC et cinq autres régulateurs clés, émettant des avertissements sévères concernant les investissements en crypto-monnaie. D'autre part, de l'autre côté de l'Atlantique, le gouvernement britannique fait face à une pression croissante pour réévaluer la politique de la Chase Bank rejetant les paiements en cryptos, ajoutant ainsi une autre couche de complexité à l'évolution positive de ce marché.
Les régulateurs américains mettent en garde les investisseurs contre les investissements en crypto-monnaies
La Securities and Exchange Commission (SEC) des États-Unis et cinq autres principaux organismes de réglementation financière ont averti les investisseurs des risques associés aux investissements en crypto-monnaies dans le cadre de la Semaine mondiale des investisseurs. Le Bureau d'éducation et de défense des investisseurs de la SEC, en collaboration avec des organisations telles que la FINRA, la CFTC, la NFA, la SIPC et la NASAA, a souligné le risque élevé impliqué dans les transactions sur des actifs cryptos.
Crypto Assets.

A smart investor understands the risks that are associated with crypto assets. #WorldInvestorWeek #IOSCOWIW2023

pic.twitter.com/8qor3UHzeJ

— World Investor Week (@IOSCOWIW) October 2, 2023
Ils ont ainsi insisté sur l'extrême volatilité et la nature spéculative de ces investissements, et ont souligné qu'il pourrait y avoir un manque de protection importante des investisseurs sur les plateformes de crypto-monnaies. Il a été mentionné que certains fournisseurs d'actifs crypto pourraient ne pas se conformer aux lois en vigueur, notamment à la réglementation fédérale sur les valeurs mobilières. Les risques impliqués incluent des offres non enregistrées, le manque de protection et la fraude généralisée.
JUST IN: In a joint effort, the SEC and five other U.S. regulatory entities have issued alerts concerning the risks associated with #Crypto investments at this year's world investor week.$BTC $Crypto #BTC

— Crypto Headlines (@Idreesahmadjr) October 2, 2023
Cette prudence réglementaire, qui joue un rôle majeur dans la baisse des prix de la paire BTC/USD, nous rappelle opportunément la volatilité et l'imprévisibilité inhérentes au marché des crypto-monnaies, pour lequel les investisseurs doivent faire preuve de prudence et de diligence.
Uptober : la tendance habituellement favorable aux cryptos en octobre
Le marché mondial des cryptomonnaies a récemment pris un élan haussier, les investisseurs adoptant avec enthousiasme le terme « Uptober » en prévision d'une éventuelle hausse globale en octobre. Les données de CoinMarketCap révèlent une augmentation de 0,82 % de la capitalisation boursière mondiale de la crypto-monnaie au cours des dernières 24 heures, atteignant un sommet en six semaines à 1 090 milliards de dollars. Cela survient après que la capitalisation totale du marché est tombée le 12 septembre à son plus bas niveau depuis six mois, à 1 000 milliards de dollars.
Hello Uptober. welcome #BTC 28k
#Bitcoin does not like September. A fact that has been proven in the past 10 years, when #BTC never grew strongly in September. Its highest record in this month was 6% in 2016.

This year is no different, as Bitcoin only climbed another 4%… pic.twitter.com/kmx7J6o7n2

— CaptainC,, C Capital (@captainCFX) October 2, 2023
La performance du Bitcoin en septembre a été limitée au cours de la dernière décennie, avec une hausse de seulement 6 % en 2016. Cette année, il a augmenté de 4 %. Cependant, octobre est traditionnellement le mois le plus prometteur pour le Bitcoin, avec une progression moyenne de 28 %. Cette tendance, ainsi que la résilience du Bitcoin, suggèrent la possibilité d'une hausse des prix au cours du mois à venir.
Rejet des paiements en crypto-monnaie de Chase Bank au Royaume-Uni
Bitcoin Policy UK a exhorté le gouvernement britannique à examiner la politique de Chase Bank consistant à rejeter les paiements en crypto-monnaie, invoquant une contradiction avec l'ambition du gouvernement d'établir le Royaume-Uni en tant que plaque tournante des actifs cryptos. J.P. Morgan Europe Ltd, opérant sous le nom de Chase Bank en Angleterre, a récemment informé ses clients britanniques qu'elle n'accepterait plus les paiements liés à des crypto-monnaies à partir du 16 octobre.
Bitcoin Policy UK, un groupe de défense, a attiré l'attention sur l'engagement du gouvernement britannique à favoriser l'innovation et la technologie dans le secteur des crypto-monnaies. Le groupe a souligné ainsi que la majorité des échanges cryptos sont des entités réglementées. Cependant, ils ont également exprimé leurs inquiétudes quant à la tendance croissante à la censure financière et à la restriction potentielle de la liberté financière au Royaume-Uni.
Cette décision a suscité des inquiétudes parmi les partisans de l'adoption de la crypto-monnaie. La baisse du prix du BTC/USD pourrait intensifier ces inquiétudes, mettant en évidence les défis et les obstacles auxquels cette industrie est confrontée, tels que les restrictions bancaires et les complexités réglementaires, qui peuvent entraver son acceptation généralisée.
Prévision du prix du Bitcoin
La valeur du Bitcoin a récemment approché la barre de résistance de 28 500 $, atteignant un sommet sur plusieurs semaines de 28 565 $. Suite à ce pic, la cryptomonnaie a subi une correction, passant sous la barre des 28 000 $. Néanmoins, le Bitcoin continue de s'échanger au-dessus du seuil crucial de 27 400 $, soutenu par une forte tendance haussière.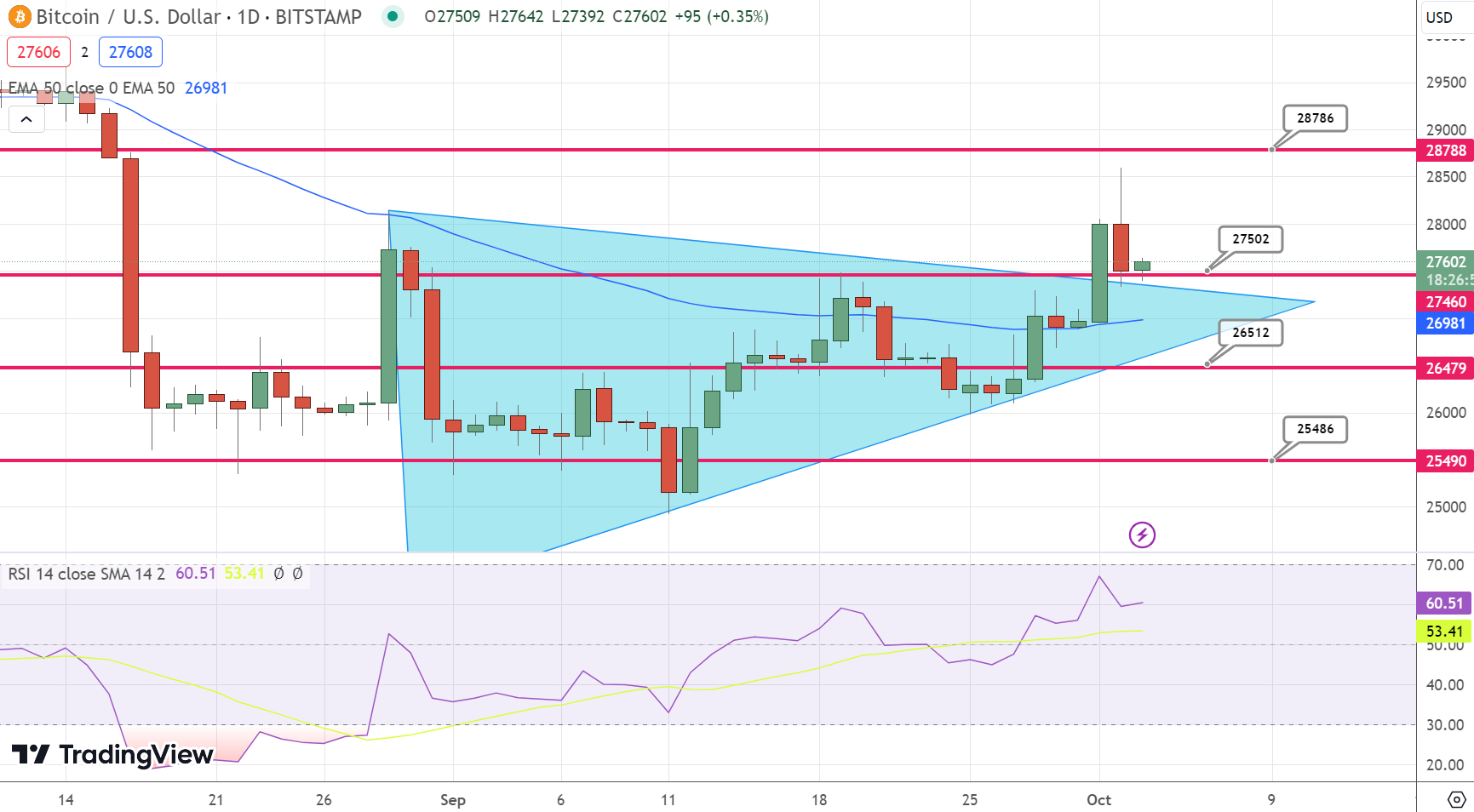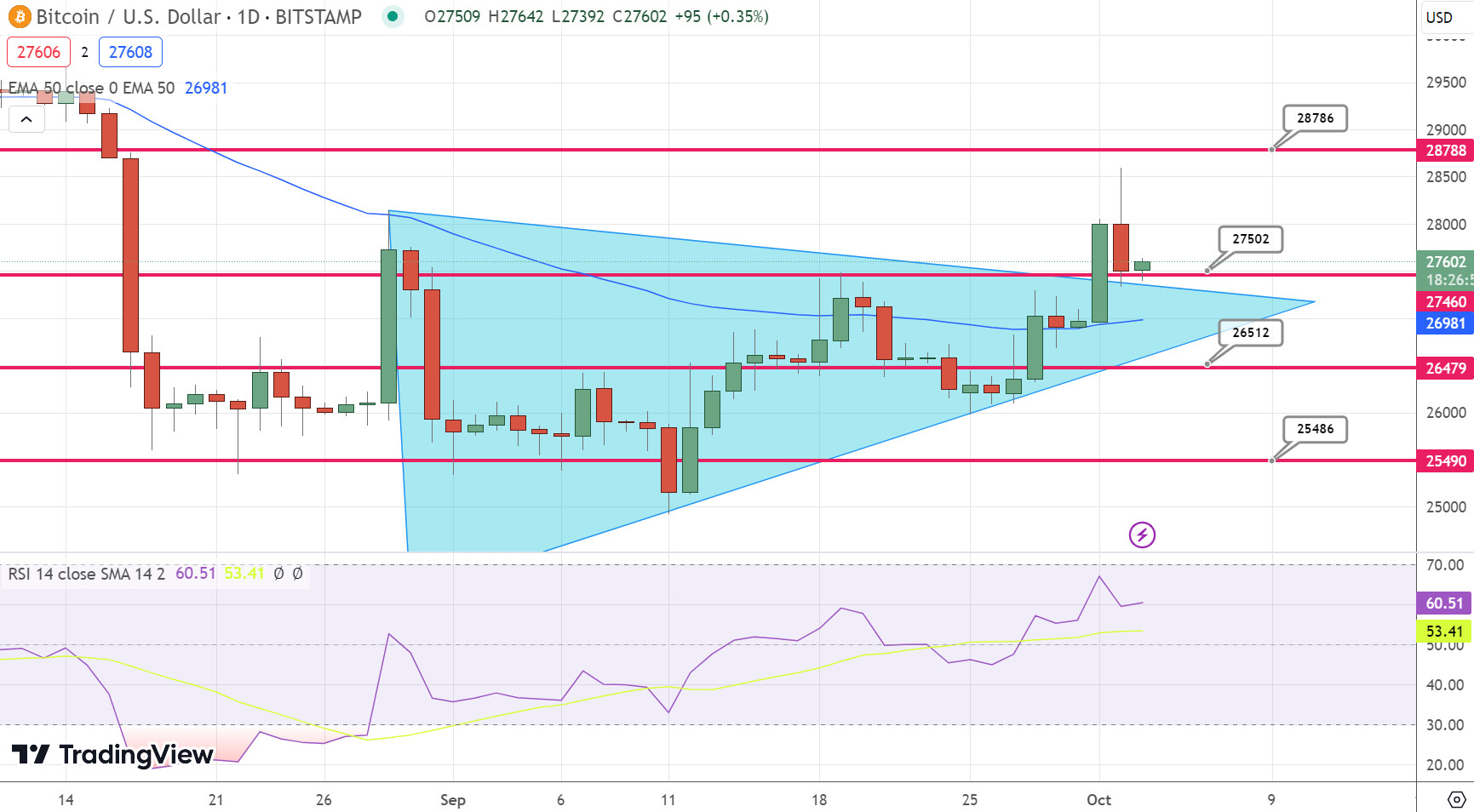 Si le Bitcoin arrive à retourner la tendance immédiate et à dépasser la résistance de 28 000 $, il pourrait cibler les 28 500 $ et potentiellement les 29 200 $. Toutefois, s'il peine à dépasser les 28 000 dollars, il pourrait trouver un support autour de 27 400 dollars, puis un autre à 27 250 dollars. Passer en dessous du support important de 27 250 $ pourrait faire baisser encore le prix, testant potentiellement le niveau de 26 000 $.
Le top 10 des alternatives à Bitcoin et Ethereum qui sont à surveiller
Cryptonews a passé en revue les 10 meilleures crypto-monnaies pour 2023. Si vous recherchez une opportunité d'investissement à potentiel plus élevé, de nombreux autres projets méritent d'être envisagés.
Clause de non-responsabilité : cet article en lien présente les points de vue des acteurs du secteur crypto et ne fait pas partie du contenu éditorial de Cryptonews.com.
The post Prédiction du prix du Bitcoin : quelles explications à la rapide chute de 3 % du BTC ? appeared first on Cryptonews France.


Source
#Prédiction #prix #Bitcoin #quelles #explications #rapide #chute #BTC