The Helium Foundation, a non-profit organization responsible for overseeing the Helium network, has responded to a recent announcement made by Binance.US. The announcement detailed the exchange's intentions to remove helium (HNT) trading pairs before the network migrated to Solana (SOL).
The Helium Foundation recommended that investors who currently hold HNT assets on Binance.US take action to withdraw their funds. To accomplish this, individuals may utilize the official Helium Wallet app, accessible on both iOS and Android platforms.
Alternatively, they could choose from other exchanges available for US residents supporting HNT trading pairs.
The Foundation conveyed its disappointment regarding Binance.US' choice to delist HNT. Despite this, they noted that they understood the exchange's position. The Foundation emphasized the importance of helium's transition to solana and likened it to Ethereum's (ETH) shift to proof-of-stake in September 2022.
Furthermore, the Foundation divulged that their plans to transition to solana are proceeding as planned, and they are fully committed to seeing it through. They also disclosed that they would maintain open lines of communication with the Binance.US team to educate them on the development roadmap of the helium network and its primary objectives.
Helium's migration to the Solana blockchain
Binance.US announced yesterday that it plans to delist HNT and jasmy coin (JASMY) on March 21. Although the exchange did not elaborate on the specific rationale behind this action, it did state that it typically delists projects that no longer adhere to its standards or due to changes in "industry circumstances."
BinanceUS indicated that "changes in a digital asset token's risk profile" may impact their decision to remove an asset from its trading pairs. Given the timing of their announcement, key players have inferred that helium's shift to the solana network may have been a contributing factor.
The Helium Foundation disclosed on Feb. 17 that the network will migrate to Solana on March 27. Immediately after the migration, the Helium Wallet will start supporting integrations with platforms in the solana DeFi ecosystem.
Currently, HNT is up 2%, trading at $2.35.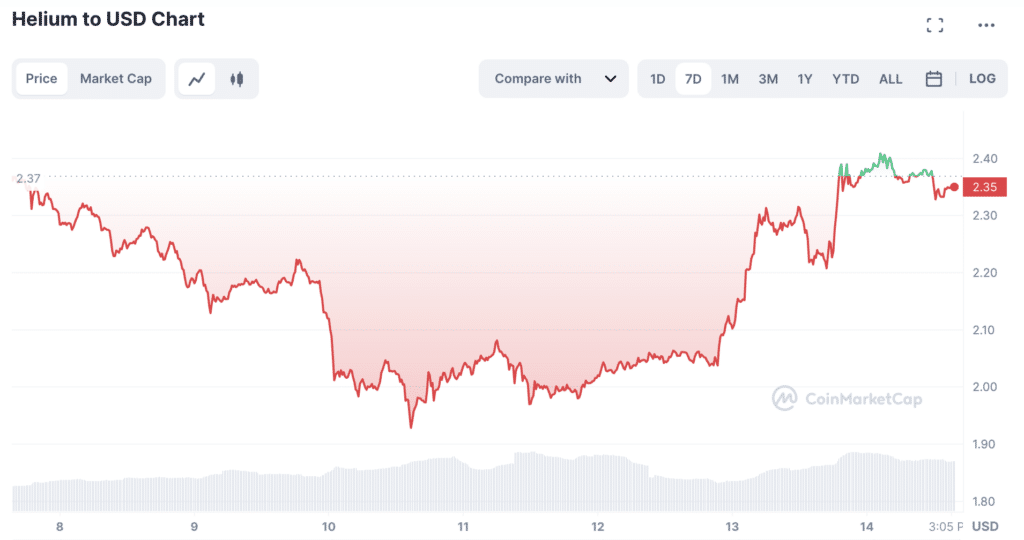 We are sorry that this post was not useful for you!
Let us improve this post!
Tell us how we can improve this post?