Bitcoin, the most popular cryptocurrency, increased in price by 18% in the last 24 hours to surpass $26,000 just after the U.S. CPI report was published.
The report showed that U.S. inflation slowed to 6% in February from 6.4% in January. Shortly after the news, bitcoin rose to $26,429 to hit a 9-month high.
BTC hits 9-month high
According to the Bureau of Labor Statistics (BLS), February inflation growth in the United States decreased from 0.5% in January to 0.4%, as predicted by experts.
Per expectations, the annual inflation rate decreased from 6.4% in the previous month to 6.0% this month.
When food and energy expenses are excluded, the core inflation rate rises to 0.5% in February from 0.4% in January and is higher than expected compared to estimates of 0.4%.
As predicted the core rate for the year-over-year comparison was 5.5%, down from 5.6% in January.
The price of one bitcoin (BTC) surpassed the $25,000 mark to reach $25,484. Bitcoin kept moving forward, reaching a 9-month high of $26,373, representing an 18% rise over the last 24 hours.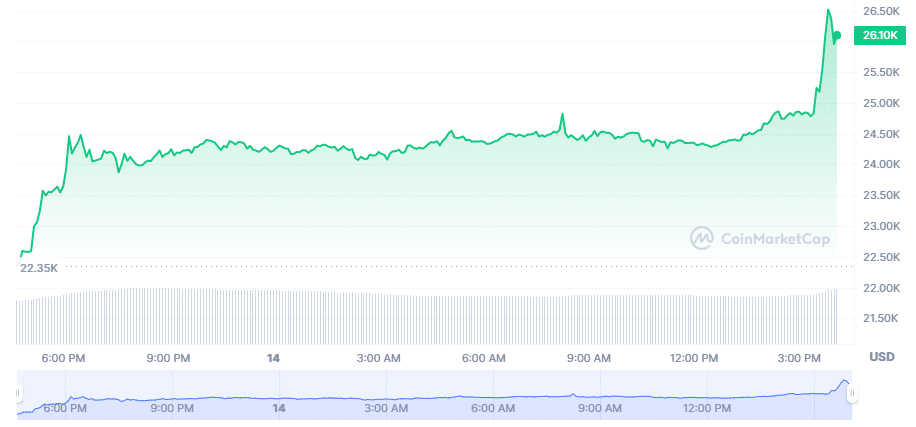 During the past few days, investors, the government, and the Fed have had to cope with the potential systemic ramifications of numerous bank collapses, pushing inflation concerns to the background.
After Silicon Valley Bank went under on March 10, and Signature Bank closed over the following weekend, traders rapidly changed their views on rate hikes. Traders are now pricing in the slimmest possibility of any rate hike in March, and rate cuts by mid-summer.
We are sorry that this post was not useful for you!
Let us improve this post!
Tell us how we can improve this post?